Tehran Taboo, a film by Ali Soozandeh debuted in the United States on February 14th. The film, a European ensemble production, covers the most critical subject of post-revolutionary Iran: oppression of women and hypocrisy that has permeated the Iranian society.
The film not only deals with the taboo of sexuality, but more importantly the taboo around sexuality, the silence about sexuality and other social problems: poverty, oppression of women, violence, duplicity and corruption.
Tehran Taboo connects the attempts of three women and a young man to navigate a complex web of religious and social constraints, all founded on hypocrisy and duplicity.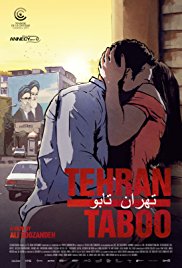 Pari (Elmira Rafizadeh) is a prostitute that trades sex to take care of her mute son and is trying to divorce her husband who is in prison for repeated drug offenses. The judge in charge of the case is a mulla who offers his assistance in signing the divorce papers, only if Pari promises to become her kept mistress. The Islamic Court judge puts Pari in an apartment building where she becomes friend with Sara (Zara Amir Ebrahimi), one of the neighbors. Sara is pregnant after two miscarriages and is trying to find a job despite the opposition from her husband who persists on her staying home as a housewife and a mother. The third woman, Donya (Negar Mona Alizadeh), is trying to raise money for a surgical procedure to restore her "virginity," as she is in the process to get married. Hymen repair has turned into a big business in Iran. Her lover, Babak (Arash Marandi)- a young musician is helping her raise the money. Later on, we discover that the marriage plot was fake and Donya aimed to go to Qatar, where virgin girls are highly in demand for billionaire Sheikhs.
The initial idea of this movie came to Soozandeh when a few years back in a metro in Germany, where he has been living since 1995, he overheard two young Iranian men sharing their trip experiences to Iran: the girls they met, and even a prostitute that had her little son with her. That image immediately crystalized the idea. Soozandeh wrote three stories separately and during the conversion process to script interwove them together.
"Tehran Taboo" gains much of its narrative force through "rotoscoping," a form of animation in which the drawing is done over filmed actors. Ali Soozandeh knew that he could not shoot this film in Iran. First, he and his production team considered using a location in another country – Morroco for example, as Tehran. They watched other movies that were shot in other countries to replace Tehran, and quickly found out this idea would never work. It might be that Soozandeh as an Iranian artist knew how fake these Hollywoodish camouflages appeared in the outcome. In his view, Tehran has such unique characteristics that could not be re-enacted: "…life in the streets, the buildings, taxis, the people, clothes they wear, they are so specific that you cannot substitute them in another city."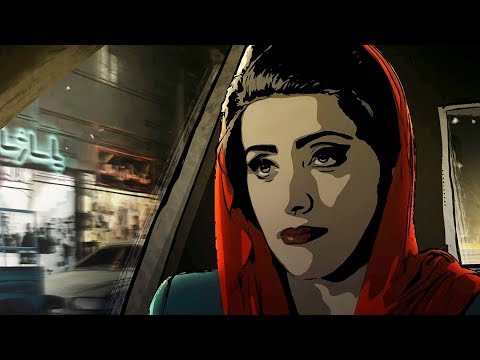 These considerations led him and his team to rotoscope. Animation has been Soozandeh's expertise and focal professional area. To tell a story in real terms and not in a fairy tale or fantasy style, he and his team chose rotoscope: "our story was about real life in Tehran, and for me, rotoscoping presented the best possibility to depict daily life most precisely."
The technical process was still a considerable challenge. The team used photographs of Tehran to create the background for the main characters. For building fronts and other locations, they converted these images into 3-dimensional technique. The same problem applied to sound design and sound recording.
Finding actors who could be young enough and speak Farsi was another challenge, as Soozandeh had to select his cast from Iranians living abroad.
Tehran Taboo is a beautiful picture. It is made intelligently, and one could see how the style Ali Soozandeh has employed to tell his story serves the purpose the film is pursuing.
Watch Tehran Taboo's Trailer