Khaled Jarrar is a multidisciplinary Palestinian artist who through his creative work has been exploring the impacts of modern-day power struggles on ordinary citizens. Khaled's portfolio demonstrates his core belief in maximizing artistic interventions in all instances of social injustice.
Jarrar's photography, film/video projects, and art installations are originally derived from the situations in his homeland and the in particular Israeli occupation of the West Bank.
Khaled's works within their interactive social contexts remind us of the necessity to critically investigate the power centers – often in militarized societies – who profit from political conflict and war.
In his best-known award-winning documentary film The Infiltrators (2012) he tried to reject the dominant narrative of an equally fought and two-sided conflict between Israel and Palestinians. The Infiltrators highlights the limited mobility of ordinary Palestinians to access basic needs.
Khaled Jarrar believes in engagement with a broad audience through public performances.
In 2014, he built a temporary "Hunger Wall" on a road in Helsinki, Finland. The wall consisted of loaves of bread, symbolizing the thin line between prosperity and poverty. His Wall Series are the most popular projects and have attracted an international reception.
One of his works involved painting a rainbow on the Israeli separation wall. He did not know about the rainbow symbolism to same-sex marriage, but it brought a lot of attention.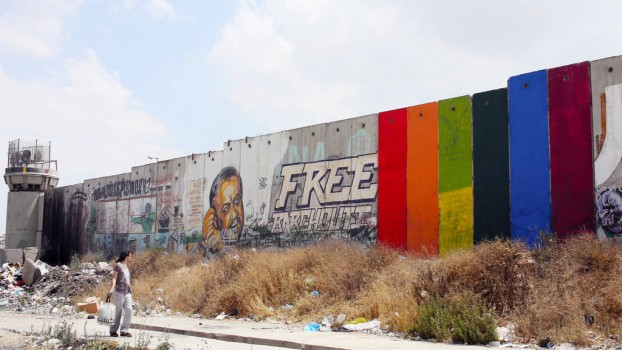 Khaled Jarrar was a member of the Presidential Guard to Yasser Arafat and Mahmoud Abbas. His attraction to art started with photography, taking photos at several Israeli checkpoints. "I did not want to stay a soldier forever; I was searching for my personal journey."
Jarrar also designed the first Palestinian stamp, recognized in a few European countries as a valid stamp.
Some of Khaled Jarrar's works have found a home at Aga Khan Museum in Toronto as well as many exhibitions in Europe and Asia.
Last year during the US Presidential election, and increasingly anti-immigrant rhetoric coming from Donald Trump and the Republican Party, Khaled Jarrar, traveled along the US/Mexican border from San Diego/Tijuana to El Paso/Juarez.  Jarrar explored common concerns and human stories along the border. His journey culminated with the installation of artwork made from stolen pieces of the US/Mexico border fence, in Juarez, Mexico. Although Jarrar has not given the monument a name, local people are calling it, "Khaled's Ladder."
This video is a production of Culturunners.