Freemuse registered 1,028 attacks on artists and violations of their rights in 2016 across 78 countries, continuing a worrying trend of artistic freedom increasingly coming under threat. The number of cases registered in 2016 more than doubled the amount in 2015, increasing by 119%, rising from 469 attacks. Of those more than one thousand cases, Freemuse documented 188 total serious violations of artistic freedom and 840 acts of censorship. to Western music.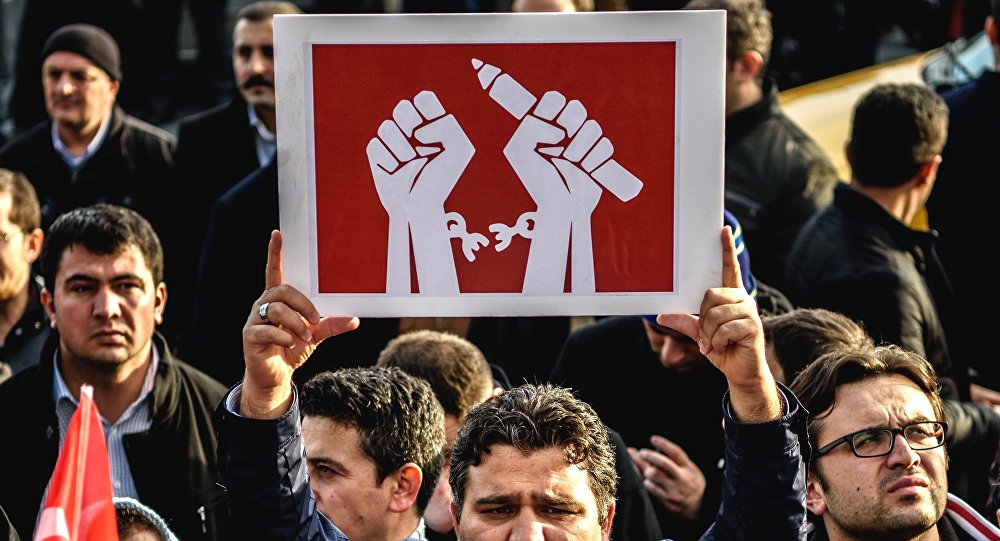 Protests in Turkey following the recent Government attacks
The numbers include the killing of two musicians, Amjad Sabri in Pakistan and Pascal Treasury Nshimirimana in Burundi, and the execution by ISIS of a 15-year-old boy in Iraq for listening to Western music.
Freemuse divides attacks on artistic freedom into "serious violations" – which include killings, abductions, attacks, imprisonments, prosecutions and persecutions/threats – and acts of censorship. Acts of censorship are also serious concerns, but separating them from the rest helps to distinguish the nuanced global picture of the artistic freedom world, and the difference between having an artwork banned from the other categories which have even more severe consequences for an artist's life and family.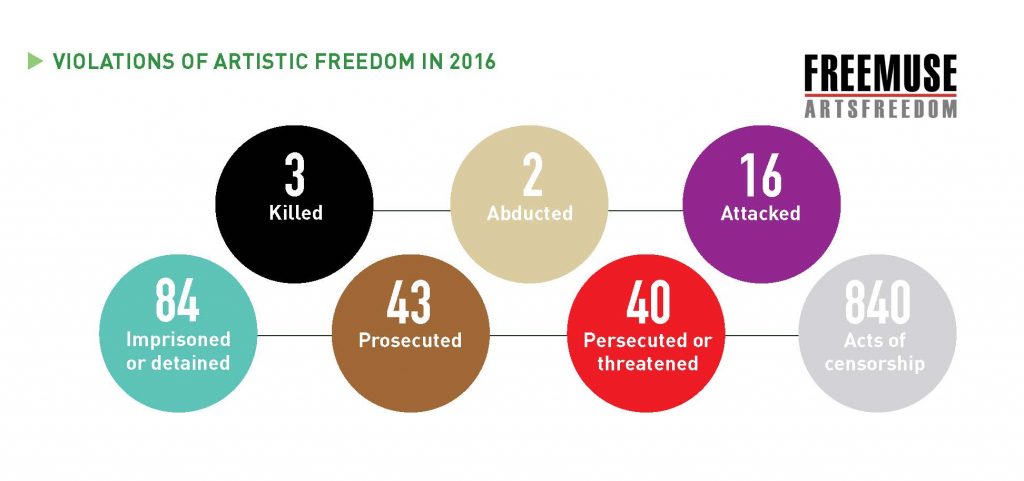 The increase in the case number can partially be explained by the fact that Freemuse, alongside its partners and expanding network, has continued to improve its documentation methods and increasingly receives more information through its strengthening network. Additionally, the issue of artistic freedom, especially in a year that is seeing a rise in populist and nationalistic views, continues to gain attention, resulting in more bodies and organizations reporting on incidents when artists are being silenced.
Despite these increases in attention and refinement of methodology, artistic freedom violations in many countries continue to be under-reported due to a variety of factors, including lack of public awareness, capacity and political will. Thus, while the number of cases Freemuse sees continues to rise year after year, the sad reality is that the real number of attacks on artistic freedom and violations of artists' rights is much higher. It is nearly impossible to report on closed societies or determine the number of acts of self-censorship carried out by artists due to intimidation, cultural and social pressure or living under regimes that threaten punishment for artistic expression of any or all kinds.
Iran ranked 1 for serious violations of artistic freedom
In 2016, Iran was the worst violating country for serious violations of artistic freedom with 30 registered cases, including an attack on one artist, the imprisonment of 19 artists, prosecution of six others, and persecution of or threat to four artists. Thus, Iran continues to be one of the worst violators since Freemuse began documenting artistic freedom violations in 2012. Iran also ranked tenth for worst country practicing censorship with nine registered cases.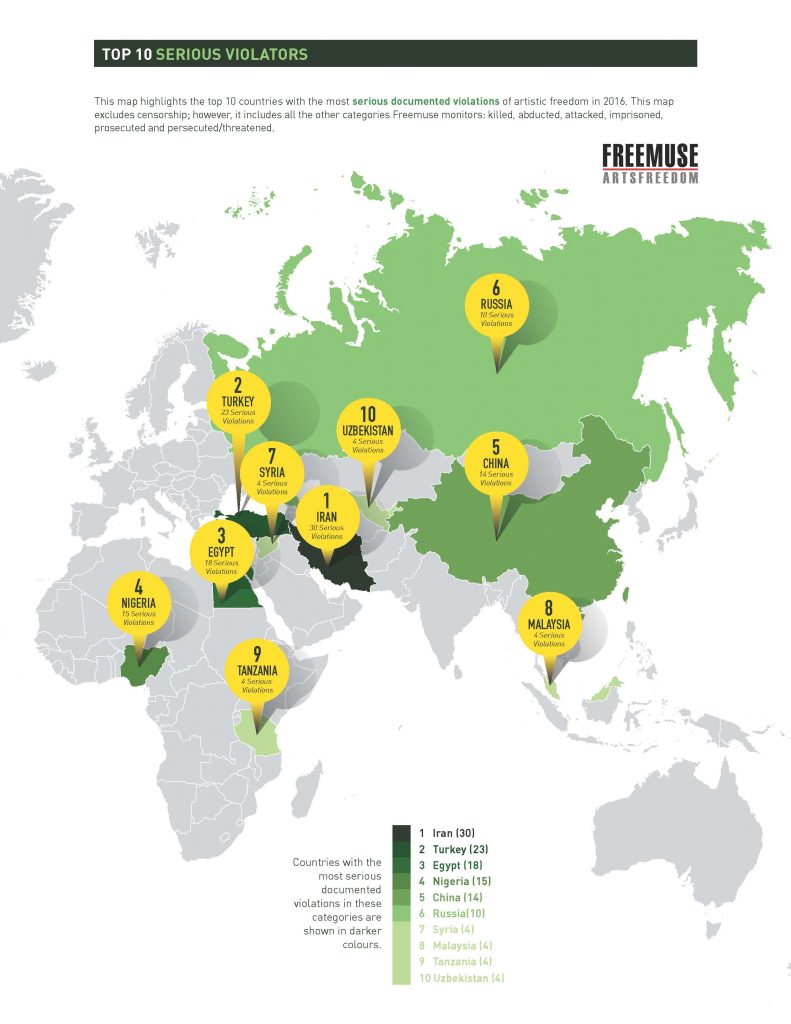 Following Iran, were Turkey, Egypt, Nigeria, China, Russia, Malaysia, Syria, Tanzania and Uzbekistan as the worst violators committing serious violations of artistic freedom, which combined accounted for 126 of the 188 serious violations in 2016, or 67% of total serious violations.
Music, the most violated artistic expression
In the case of serious violations, music continued to be the art form that suffered the most violations of artistic freedom with 86 cases or 46% of total serious violations. In 2015, Freemuse also registered 86 serious violations for music.
2016, however, saw a rise in serious violations on theater and visual arts. Theatre ranked second, up from fourth place in 2015, for serious violations with 32 cases registered in 2016. Visual arts ranked third, up from fifth place in 2015, with 27 cases registered in 2016. Combined, music, theater, and visual arts accounted for 77% of worst affected art forms for serious violations.
Censorship
Ukraine in 2016 topped the list for the worst country to practice censorship with 557 registered acts of censorship, mainly due to a blacklist of 544 films that was made public, mostly consisting of Russian films and TV-series banned as a result of the ongoing conflict between the two countries. Ukraine alone accounted for 66% of censorship cases in 2016 – 557 of the total 840 cases registered.
When a blacklist is made public, or Freemuse can obtain it and identify all the individual artworks banned, they are all registered as individual cases of censorship; when a list is not able to be obtained, the offense is listed as one instance. For example, such was the case in 2016 with Uzbekistan, a country that sources reported produced a blacklist of 700 films. Freemuse was unable to obtain that list, and thus the case was registered as one.
While Freemuse appreciates the level of transparency by governments who are public about their censorship, the fact remains that neither such a wide-sweeping act of censorship should occur in the first place, nor should any act of censorship.
Following Ukraine in censorship was Kuwait – a country whose total 61 cases were all acts of censorship, including a blacklist of 54 films Freemuse was able to obtain – followed by China, Egypt, India, Russia, Turkey, USA, Pakistan, and Iran. Combined, the top ten censoring countries accounted for 88% of all registered censorship cases in 2016.
Threats From Non-State Actors
It is not only governments violating the right to artistic freedom. 2016 saw a worrying amount of actions by non-state actors, ranging from militant extremists to peaceful community groups, against art and artists. In some incidences, authorities censored artists based on requests or the interference from civil society groups.
Over the past years, militant extremists have attacked music, and other art forms in countries such as Afghanistan, France, Iraq, Mali, Pakistan and Somalia, and 2016 was no exception to this trend.
Artists Censoring Artists
Artists have for centuries played significant roles as censors, working actively as directors of censorship boards and as controllers of cultural budgets, while at the same time benefitting from state support – often playing the role of "his master's voice."
In some countries, artists' syndicates are government controlled. Some of these syndicates do not only control which artists are being given permission to perform; they even perform pre-censorship and engage in condemnations of fellow artists.
In 2016 this has particularly been significant in Egypt. But syndicates and unions in other countries such as Tunisia, Nigeria, Ghana, and Kenya also seem to feel called to condemn and expel other artists – the tendency has, in particular, been related to music.
Censoring Women Artists
When women artists are targeted, it is often specifically related to their gender. In several countries, women artists are prohibited from performing solo or for mixed audiences. Iran and Saudi Arabia are leading the league of religiously motivated states that ban and censor women artists from performing in public space.
Such bans have had devastating effects on the diversity of cultural expressions. Though many brave women artists are challenging these hardline bans, they face serious consequences.
In the Iranian province of Isfahan, women musicians are not allowed on stage at all. Mohammad Qotbi, head of the Isfahan Culture and Guidance administration and a member of the clergy, compared music bands to the national football team, saying that just as there are substitutes for players on a football team, music groups should also have substitutes for their female players.
It was also in Isfahan that Fatemeh Motamed- Aria, one of Iran's most famous actresses, was attacked by religious hardliners at a screening of her movie 'Yahya Did Not Stay Silent' on 29 January in the city of Kashan. Outside the movie theater, the actress, director, and cast of the movie were met by a crowd of about 50 people shouting at the group and calling on Motamed- Aria to leave the city.
"They insulted Ms. Motamed-Aria with things I had never heard before," director Kaveh Ebrahimpour said.
The attack was condemned by the Ministry of Culture and Islamic Guidance, who granted permission for the screening, and by the Vice President for Women and Family Affairs Shahindokht Mowlaverdi, also a member of President Rouhani's administration.
Motamed-Aria first drew negative attention from religious conservatives in 2010 when she attended France's Cannes film festival without wearing
a head scarf. She also acted in the 2012 film 'Parinaaz,' which was banned until Hassan Rouhani became president. Despite the lifting of the ban, at the time, the film had yet to screen to the public.
Although music has slowly returned to Afghanistan after the all-out ban imposed by the Taliban during their rule has lifted, women's voices are still considered undesirable in many regions.
In May, local Ministry of Information and Culture authorities in the southern Kandahar province of Afghanistan banned women's songs from being broadcast across local media, directly affecting the 11 radio stations in operation in the area. Kandahar's Information and Culture Director Hazrat Wali Hotak said that "programs on many of the province's radio stations are unacceptable and have warned the stations to change their programming or else they will be faced with legal action." In several countries, women singers and artists were specifically targeted as "indecent" in 2016.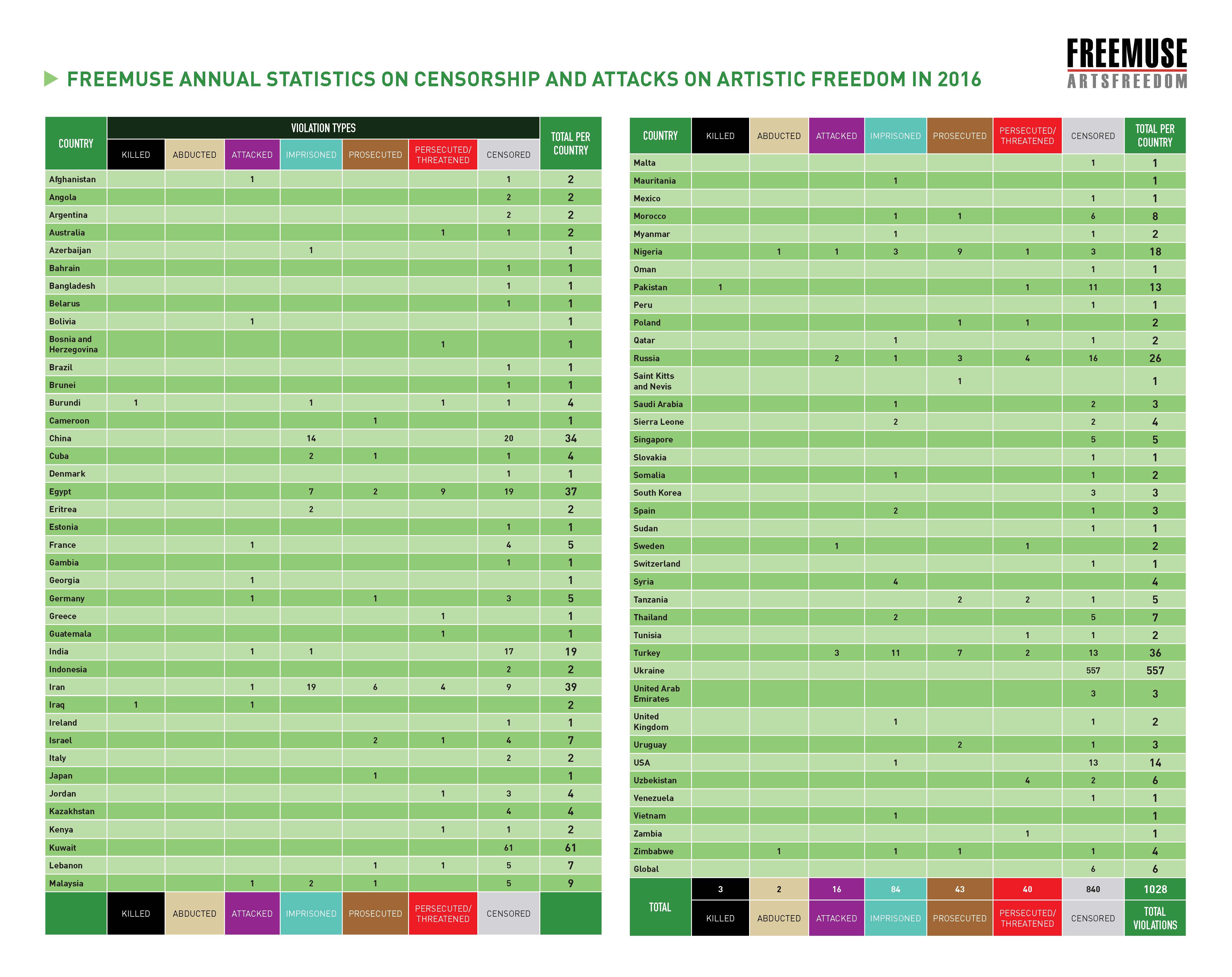 Conflict Between Countries Affects Cultural Industries
When two countries are in conflict, cultural life, and cultural industries are often heavily affected. Some artists feel pressure to support their national governments irrespective of their political views; others may even use nationalistic sentiments to promote their careers; while some suddenly see their potential markets shrinking. Artists attempting to be neutral, or who even take upon themselves a role as mediator, risk being accused of supporting the "other side."
In 2016, local artists and cultural producers 
in Russia and Ukraine, as well as in India and Pakistan, were particularly affected by conflicts between countries.
Iran ranking 1 in serious violations
Iran continues to intimidate, persecute, imprison and ban artists, cultural producers, and publishers, bringing it up from the second country with the most serious violations in 2015 to first in 2016.
In 2016, Freemuse registered 30 serious violations on artistic freedom of expression in Iran, including 19 artists behind bars, the prosecution of six artists, persecution of or threat to four artists and attack on one artist. Iran also carried out nine acts of censorship, for a total of 39 violations on artistic freedom of expression in 2016 – seven more cases than Freemuse registered for the country the previous year. Alarmingly, Iran in 2016 more than tripled the number of artists it imprisoned or detained in comparison to 2015 – from six to 19.umber
The repressive environment for artists in Iran stems from an ongoing and internal power struggle within the country's political, religious and social institutions.
Music has landed in the middle of the battlefield between President Rouhani's administration and the Supreme Leader and his religious institutions, where permissions to hold concerts given by the Ministry of Culture, are withdrawn by religious authorities. Thus, the Revolutionary Guards continue to have extensive power over the Ministry of Culture and Islamic Guidance, which is supposed to be the official agency in charge of approving any artistic creation before publication and giving permission to cultural events.
In late August 2016, the Tehran prosecutor recommended new rules for concerts in the capital that would include police recording all concerts and ensuring the Ministry of Culture and Islamic Guidance, as well as the provincial governor, takes more responsibility for the content of concerts.
Concerts by Kayhan Kalhor, an internationally renowned master kamancheh (traditional string instrument) player, planned in Neyshabour on 10 and 11 May 2016 were cancelled by the local prosecutor, who cited "complaints from the families of martyrs"; this despite the artist holding all the necessary permits from the provincial governor's office and the Ministry of Culture and Islamic Guidance.
Female artists in particular face discrimination, with specific rules on how they can perform publicly or even record privately, including
not being able to share a stage or sing with men. In provinces such as Isfahan, no women musicians are allowed on stage.
Artists are often charged with and sentenced for "insulting the sacred", "propaganda against the state" or "spreading depravity." Iranian courts use the "assembly line" method for prosecuting artists and other citizens, and barbaric methods, such as lashing, to punish convicts.
On 5 November 2016, Iranian singer Amir Tataloo was sentenced to five years in prison and 74 lashes after being found guilty of "spreading Western immorality".Imprisoned artists are often mistreated and denied medical help and medicine. Currently, musician Mehdi Rajabian and his brother, filmmaker Hossein Rajabian, are behind bars in Tehran's Evin Prison serving a three-year sentence for "insulting the sacred" and "propaganda against the state" through the production and promotion of underground music. Both have been on hunger strike twice, because Mehdi was denied medical help and because the brothers were separated when Mehdi, while still ill, was moved to the section for political prisoners.
Read the complete report on other countries: Turkey, Egypt, Nigeria, Ukraine, Uzbekistan, Saudi Arabia, Kuwait, Russia, Isreal, and more.
Arts Under Threat 2016
Full Report
Courtesy of FREEMUSE